THE INSTITUTE FOR SPORT & SOCIAL JUSTICE ADDS  ELITE LINE-UP OF NEW MEMBERS TO ITS BOARD OF DIRECTORS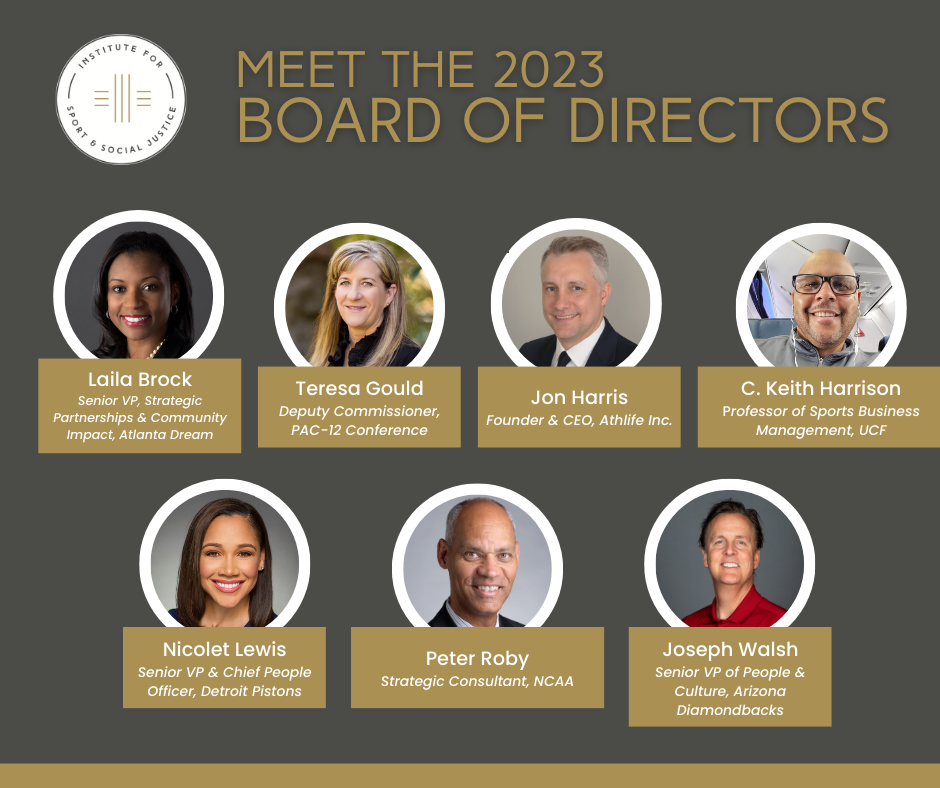 Today, the Institute for Sport & Social Justice (The Institute) announced the appointment of seven new members to its Board of Directors: Laila Brock, Teresa Gould, Jon Harris, C. Keith Harrison, Nicolet Lewis, Peter Roby, and Joseph Walsh. Following the appointment of these new leaders, the Board will now comprise 20 total board members with over 100 years of combined sports leadership and service experience.
"I am honored to welcome this group of leaders – true changemakers who embody our values and belief in the transcendent power of sport to change the world," said Dr. Jeffrey O'Brien, CEO of The Institute. "Our life-changing work was never needed more than it is today, and we are excited to continue to build our capacity to make an impact in the world with these remarkable new members on our board."
Since Dr. O'Brien was named CEO in August 2022, the Institute has empowered thousands of learners during over 100 Huddle Up (HU) training sessions with collegiate athletic departments and professional sports organizations. HU is the Institute's umbrella training program, addressing a wide range of issues relevant to sport organizations, including gender equity and violence (sexual assault, sexual harassment, gender construction, language), the full spectrum of diversity, equity, inclusion, & belonging (DEIB), and leadership development. With over 35 years of experience and expertise in advancing social justice through educational empowerment and leadership, the Institute continues to catalyze the power of sport to affect positive change in society.
Meet the new Board of Directors:
Laila Brock is the Senior Vice President, Strategic Partnerships and Community Impact at the WNBA's Atlanta Dream. With more than 20 years of experience, Brock's place at the head of both the Dream's Corporate Partnerships and Community Impact vertical efforts puts her in a position to align the organization's mission with its business development goals while also amplifying the values of the team. Prior to joining the Dream, Brock served as the Senior Vice President of Business Development at JMI Sports. In this role, Brock directs JMI Sports' industry outreach and relationship development in the professional and collegiate markets. Prior to joining JMI Sports, Brock was a member of the College Football Playoff (CFP) senior staff as the Senior Director of Operations and Logistics. She was one of the original members of the CFP staff that created the events, programs, and strategic vision of the CFP.
Teresa Gould is the Deputy Commissioner, Sports Management & Institutional Services for the Pac-12 Conference. Gould is paving the way for women in sports leadership as a senior level executive of an NCAA Power 5 conference. In her role as Deputy Commissioner, Gould oversees management of the Pac-12 women's basketball and Olympic sports, including oversight of championship events, as well as compliance, governance, and student-athlete engagement. Gould also serves as the Pac-12's senior woman administrator and previously led the conference's diversity, equity, inclusion, and belonging (DEIB) efforts. Prior to the Pac-12, Gould had three decades of senior level leadership across a variety of roles in Division I intercollegiate athletics and worked as an ESPN media executive.
Jon Harris is the Founder and CEO of AthLife Inc. and The AthLife Foundation. AthLife Inc. provides educational, personal development, and career advising services to over 650 current and former professional athletes. The AthLife Foundation is a non-profit that provides support and resources to youth in under-resourced communities. Current AthLife partners include the NFL Players Association, The Trust (powered by the NFL Players Association), NBA, National Basketball Retired Players Association, NBA Players Legacy Fund, MLS, MLBPA, and the NHL. Harris' addition to The Institute board brings him full circle in his career. Harris' professional career began in 1995 with the National Consortium for Academics in Sport (later renamed the Institute for Sport & Social Justice) where he spent six years building educational programs for the NFL.
C. Keith Harrison is a Professor of Business, HipHop, and Sport at the University of Central Florida (UCF). He has served as Associate Unit Head/Chief Academic Officer of the UCF DeVos Sport Business Management Graduate Program in the College of Business and founding director (2006-2014) of The Minor That's Major™ Sport Business Management Undergraduate Program at UCF. Harrison has published numerous peer-reviewed articles, academic book chapters, and has co-edited three books. He is the president and co-founder of scholarballer.org and a researcher for the NFL's good business diversity and inclusion series. In 2020, he served as a Nasir Jones Hiphop Fellow at the Hutchins Center at Harvard.
Nicolet Lewis is Senior Vice President and Chief People Officer for the Detroit Pistons. Lewis is a member of the senior management team, designing and executing workforce planning and development strategy. She is also responsible for diversity, equity, & inclusion, talent acquisition, talent and succession planning, employee rewards, and ensuring that the human resources vision supports the organization's objectives. Lewis managed the movement and transition of employees to the new Henry Ford Detroit Pistons Performance Center in 2020. Prior to the Detroit Pistons, Lewis had senior level positions with Flagstar Bank and the Target Corp. focusing on operational excellence, talent management, and human resources leadership.
Peter Roby is a strategic consultant for the NCAA and its Leadership Development programs after a long, storied professional career as an athletic director, director of a national sports organization, and collegiate coach. Roby led athletics at Division I, Northeastern University for more than 10 years after spending five years as director of the university's Center for the Study of Sport in Society, which seeks to create social change using the influence and appeal of sports. Roby's membership on the Knight Commission allows him the privilege to develop and lead change that prioritizes the education, health, safety, and success of student-athletes.
Joseph Walsh is the Senior Vice President of People and Culture for the Arizona Diamondbacks (D-backs). In his role, Walsh oversees all people-related responsibilities for the D-backs including culture, leadership development, talent acquisition, retention, Team Player relations, total rewards, organizational development, wellness, HRIS and payroll. He also develops and delivers the D-backs' Leadership Academy, an annual yearlong cohort of Team Players engaged in classroom leadership development curriculum. Walsh has over 23 years of experience in the professional sports industry as a senior level administrator with stints with the Detroit Pistons, the Los Angeles Dodgers, and CLS Sports. Walsh sits on several boards that directly impact the youth and is a current member of the Society for Human Resource Management.
Continuing their service on the Institute board are:
Dr. Richard Lapchick (Founder & President, The Institute)
Dr. Jeffrey O'Brien (CEO, The Institute)
Allyce Najimy (CEO and Executive Director of the Foundation To be Named Later (FTBNL)
Tanya Hughes (Olympian and senior level executive in the financial sector)
Ashley Turner (Director, External Affairs & Partnerships, DeVos Sports Business Management Program, UCF)
Chris Monasch, Chair (former Athletic Director, Stroudsburg University of Pennsylvania and St. John's University)
Paul Kaplan (Attorney, Lexington, KY)
Ken Dixon (Founder & CEO, Leland Enterprises, Inc.)
Steve Phelps (President, National Association for Stock Car Auto Racing (NASCAR)
Dan Guerrero (President, The United States International University Sports Federation)
Learn more about our full board of directors here.